Classi Cases - a fine leather wallet on Kickstarter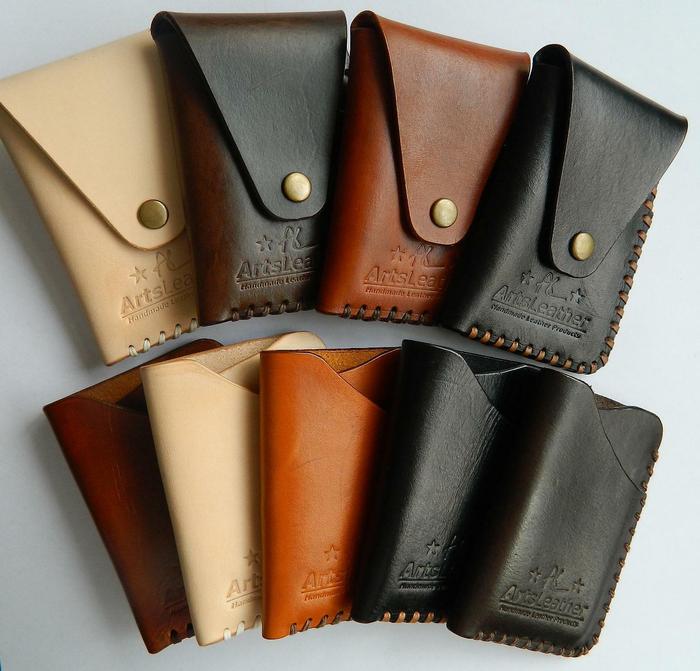 I've come across this great Kickstarter for a new wallet. I had previously backed the Slim Wallet, that was nothing more than elastic band stitched together. which was fine for a while, but it collects dirt and looks grimy. Thats what got me looking for a new wallet. Check this out; Leather. You know what happens to leather over time? It polishes and just looks better and better.
This Kickstarter, Classi Cases, Isn't just wallets, they also want to make leather Iphone cases 5/5s and iPad cases made by hand from genuine leather. Which I'm totally in support of. It'll give my tablet a nice, soft case. It'll look good for a long time and for a good while it'll have that fresh leather smell.
I'm really excited for that Type A iPhone case. I like that extra fold where I slip my ID and Debit Card then be on my way. I already try to carry as little on my as possible when i'm out and about. But the iPhone has some permanent pocket space. So with this Classi Case, I'll be able to double utilize that pocket space making it a streamlined experience. All my personal effects all tucked into the one case. The design just works well for me.
Now for a word from the creator:
Story

After a long break, I'm trying to return to my first job, which is working with the leather and making products of natural leather.

My adventure with the leather, I really started a long time ago. I had a small workshop where I worked, creating all kinds of leather goods and selling them later to local customers.

But at some time, I received a very interesting offer to work in the tourism sector in the Spanish islands. So I decided to try it and I left to Spain.

I worked in tourism for many years, until December, when I had an accident. I decided then to change something in my life and I wanted to go back to my old profession.
"Go back to my old profession" That tells me, that this will be some fine quality work. This isn't some guy trying to make potato salad for the first time. This is a real artisan with real skills wanting to do real work.
Here are some more words form the creator:
My Project

This is my second project, I learned a lot from my previous campaign. My funding goal lowered to increase chance of successful funding. Also I added new photos and new video to show all advantages of my products.

In this project on which I worked in last time I want to show you wallet for credit cards, cases for iPhone and iPad made of genuine, natural leather. All products are entirely handmade from the English, natural leather.
He clearly knows the deal with Kickstarter. This isn't some get rich scheme. He just needs the funds for tools and materials. Then he will set to work and produce the goods.
---
If you're still with us then I highly suggest you quit kidding yourself and just go back this project now! 
---
If you're still on the fence, here is a little more from the creator about the project:
The Design

In the meantime, I started to design a variety of products that I had the intention to produce, it was very much, but it ended with a simple, small and practical item useful in everyday life, such as credit card holders, wallets, mobile cases, belts, bracelets, etc. I craft each product from a quality, english leather.

The Goal

If I can complete this project I would like to start a new phase in my life and open a small business related with the production of leather products. The money that I can collect I would like to spend on the purchase of raw materials, leather, tools and machinery that would help me in developing and improving production.

I hope that I can return to my old job, which I really liked and put whole heart into my work. I also hope that you will love my products and will buy them, your contributiion will help me to return and rebuild my old profession.

In the future I would like to turn it into a small business.

At the moment I work at home where I have the opportunity to have a little space for leather workshop, I live with a family so, if necessary, will help me in manufacturing my products.

I designed a few new products that I'd like to produce in the near future, and I hope that thanks to your support I will be able to realize it and present you a new, interesting projects also made of natural leather.
Here is what Kickstarter is all about. It's not just getting sweet sweet loot. It's about reaching in and funding a creators dreams. Your contribution will set this artisan on a path to follow his dreams. To positively effect the course of his life, and his ability to wake up everyday with purpose. But don't just take my word for it. Last words from the creator:
Your support:

By supporting this project you will help me and you contribute to my return to my old profession that ruled the whole heart.

This will help me very much in purchase of raw materials for the production of this project as well as in completing the necessary tools and equipment needed to finish this and potential upcoming projects that are already prepared in the workshop.

Thank you very much for watching and invite you to familiarize with the project.